You're evil, you're sick,
But I won't let you stop me.
I have a voice and it's powerful,
So I won't let you silence me.
You hide behind your computer,
You spout such disgusting filth,
But you won't win.
I can't be silenced,
I refuse to stop writing,
I'll never stop caring,
I've no need to be anxious and worried,
Because you are nothing.
Try it again, I can track you now.
The Police will find you.
You hold no power over me, nor my family.
Just stay away, you are not wanted.
My God is bigger than you,
and He is always with me.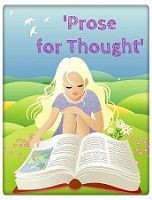 ---
---
You might also like
---